MesoWest is an ongoing cooperative project between researchers at the University of Utah, forecasters at the Salt Lake City National Weather Service Office, the NWS Western Region Headquarters, and personnel of participating agencies, universities, and commercial firms. The goal of this project, which started in 1996, is to provide access to current and archived weather observations across the United States. Support for this project is being provided by the National Weather Service.

MesoWest relies upon weather observing networks that are managed by government agencies, private firms, and educational institutions. The following image displays the growth of MesoWest in terms of actively reporting stations per month.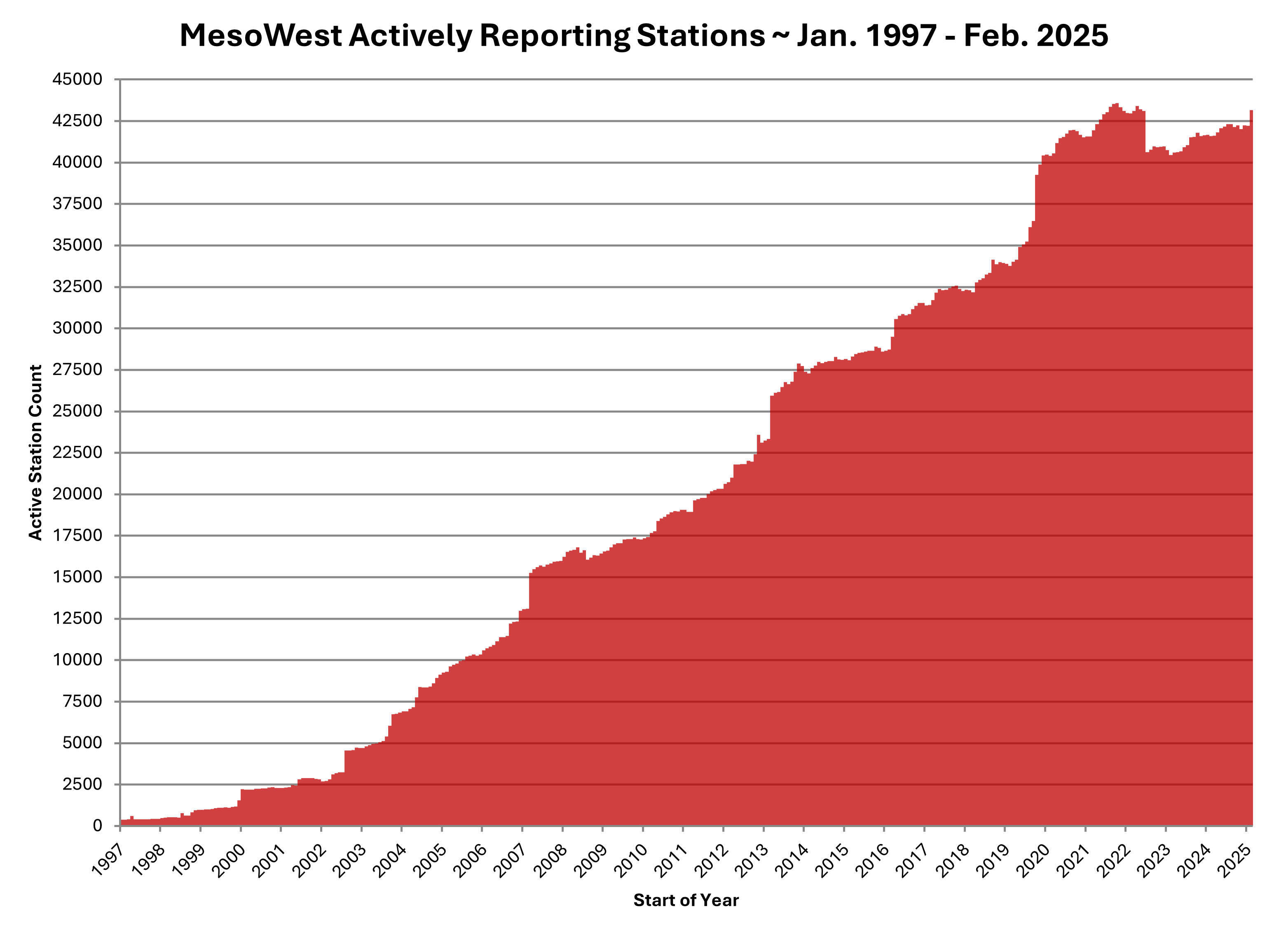 As seen in the above graph, stations are continuously added to the MesoWest database. Stations also become "inactive" if they discontinue reporting for an extended period of time, or become "active" again if they resume reporting. To view the history of when certain stations were added or changed status, please click the following link:



View MesoWest Stations which were Added or Changed Status

Stations have also been installed at numerous locations such as around the Great Salt Lake, for example. Observations of temperature, relative humidity, wind speed, wind direction, precipitation, and other weather parameters are provided and available through MesoWest. Please click the following link for example images of stations:



Example Images of Stations

The MesoWest interface and database are utilized by numerous organizations. They are used operationally by the National Weather Service to monitor weather conditions around the country in order to protect lives and property. MesoWest is used extensively by researchers to understand severe weather events such as winter snow storms, damaging winds, and convective weather events. MesoWest surface observations are integrated into high spatial and temporal resolution surface analyses over the continental United States. The University of Utah 2Dimensional Variational Analysis (UU2DVAR) provides hourly analyses of temperature, relative humidity, and wind. This analysis system is being developed as a tool for quality control of MesoWest observations and to estimate the impact of observations on analyses. MesoWest is also available to the educational community for use in the classroom. Students in grades K-12 can observe weather conditions near their school or around the region.

Information on MesoWest data providers, mesonets, stations, and variables can be found using the following links:



MesoWest Mesonet Table


MesoWest Data Provider Table


MesoWest Station Listing (Station ID, Name, Location, and Elevation)


Distribution of Stations by State


Distribution of Stations by Elevation Range


MesoWest Database Variable/Parameter Listing

Return to top
MesoWest Staff


MesoWest Staff
John Horel
Overall Coordination
Nola Lucke
Program Management
Judy Pechmann
Database Support
Chris Galli
Web/API Lead Support
Alex Jacques
Postdoctoral Programming Support
Joe Young
Programming Support
Andrew Park
Undergraduate Student Support

Return to top
Access to Weather and Climate Information


Weather information can be visualized in many different ways. Since different users have different needs, we have developed several methods to access weather information. Here is a brief overview of the purpose for each of the available delivery methods:



Current Weather Summary: The Current Weather Summary provides quick and flexible access to current weather conditions in a tabular format. Users are able to view weather conditions locally or at larger scales.



Interactive Weather Maps: Our interactive Weather Map interface allows easy access to MesoWest data plotted on surface analyses and/or specialized topographic depictions.



LDM (Local Data Manager) Data Delivery: MesoWest data are disseminated to NWS Forecast Offices via dedicated communication channels for input into AWIPS (see the AWIPS FAQ page for more information). Forecasters are able to superimpose mesonet observations onto satellite, radar, and other products. MesoWest data are also available to educational institutions and government agencies that rely upon LDM for data distribution.



Website Data Download: MesoWest data can be downloaded directly from our site. Please refer to our Data Download Interface and choose a Station ID to download individual station data. If you have a My MesoWest profile, you will be able to download data for extended time periods. More information on how to download data can be found on our Data Download Help Page. Additionally, there are a number of files MesoWest has available at http://mesowest.utah.edu/data. MesoWest provides a latest observation file (mesowest.dat.gz) and metadata file (mesowest_csv.tbl.gz). The observation file is updated every 15 minutes, while the metadata file is updated every 2 hours.


Return to top
Usage Restrictions


The data provided to MesoWest arise from cooperative arrangements with many different educational institutions, public agencies and commercial firms. These data are intended to be used by: governmental agencies to protect lives and property, the public for general information, and educational institutions for instructional and research purposes. Any other uses of the data from one or more stations must receive written approval from the agencies that installed the weather sensors. Contact the MesoWest Support Group to receive information on how to obtain written approval.

Due to the nature of data transmission across the Internet and other communication methods, information found on MesoWest may not always be current. No warranties are expressed or implied regarding the accuracy, completeness, or reliability of the information contained in MesoWest.

Data users are also cautioned to consider the provisional nature of the data before using it for decision making. The user assumes the entire risk related to use of MesoWest data. The Mountain Meteorology Group, MMG, provides the data "as is" and in no event shall the providers be liable for any damages, including, without limitation, damages resulting from lost data or lost profits or revenue, the costs of recovering such data, the costs of substitute data, claims by third parties or for other similar costs, or any special, incidental, or consequential damages, arising out of the use of the data. The accuracy or reliability of the data is not guaranteed or warranted in any way and the providers disclaim liability of any kind whatsoever, including, without limitation, liability for quality, performance, merchantability and fitness for a particular purpose arising out of the use, or inability to use the data.

It would be very helpful if publications that depend upon substantial use of MesoWest data acknowledge the data providers by including a statement similar to: This study was made possible in part due to the data made available by the governmental agencies, commercial firms, and educational institutions participating in MesoWest. In addition to the providers, two Bulletin of the American Meteorological Society articles may also be referenced if appropriate. These articles are Mesowest: Cooperative Mesonets in the Western United States (Horel et al. 2002) and Weather Support for the 2002 Winter Olympic and Paralympic Games (Horel et al. 2002).

Return to top
Contact Information


Inquiries and questions regarding MesoWest may be directed to members of the MesoWest Support Group, which can be contacted via email at atmos-mesowest@lists.utah.edu.